Simple Guitar lessons - Learn Guitar
Learn how to play the guitar with my
simple guitar lessons
in easy form. Take the short cuts that I will show you and start playing faster than you ever thought possible.
Learn to play from someone who has been playing for over 10 years such as myself, and I will teach you techniques so that you can avoid just making noise like I did when I first started playing.


When I was a younger lad almost everyone in my family played either the guitar or the piano and I wanted to learn to play as well. It seemed that for my dad and my brother that playing the guitar was just embedded in their genes, but for me, it was going to be a very long road to travel.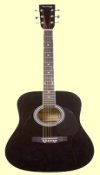 There was something in me that told me; if they can do it, then I could too. Now I have to admit when I first started out there was a lot of noise making going on in the house and I seemed to annoy everyone, but I was on a journey to learn from books and other resources. This is when I searched for simple guitar lessons.
Does this sound like you? If so, let me teach you how to avoid all of the noise making mistakes that I made to help save you some time and frustration. All you have to do is be willing to learn and come with me on this great journey and start playing guitar faster than you ever imagined.
Here is what you will learn:
Learn the beginner guitar chords
Learn how to train your ears for chord changes
Learn the easiest songs to start with
Plus a whole lot more…
Most people when they start out playing the guitar they usually learn by playing an acoustic guitar but you can learn with an electric guitar just as easy as you can with an acoustic. Being able to make clean guitar chords is the key to your success and you will learn that by practicing over and over again.
Although it can be argued that the electric guitar is easier to chord as opposed to the acoustic guitar because the strings are closer to the fret board. One thing to remember is that as long as you are comfortable with either type of guitar you will be a success. My simple guitar lessons will teach you how to be successful in my simple form of teaching.
simple guitar lessons with me will be fun and easy to learn. Let's get started and have you playing in no time. These lessons that I teach is the easiest online guitar lessons that you will ever need to start playing the guitar today.
You will be able to play guitar with the techniques that I teach you even if you have never even picked up a guitar before so let's get started and you will be playing the guitar in no time at all.
Table of contents
Welcome to my beginner guitar lessons website. We are going to cover a lot of the need to know basics of playing the guitar.
Taking basic acoustic guitar lessons is normally the most popular courses that people want to take due to the fact that many beginners usually start out on the acoustic guitar.
The bass guitar is one of the most dominant instruments used in any band. Bass guitar lessons were the first beginner course that I had taken as I started out as a musician.
There is not a huge difference in electric guitar lessons than they are with acoustic lessons as far as being able to make guitar chords and playing rhythm guitar.
Learning guitar scales doesn't have to be a daunting task; you will easily learn many basic scales here with my easy to follow instructions.
There is a new program out there on the market that will teach you how to play electric lead guitar in just a few short weeks at the most.
If you have been searching for free printable guitar chords we have what you need here with our free downloads available with nothing to buy.
When a person is beginning to play guitar there are some easy guitar songs that I always like to recommend because they are easy to learn and there can be played with 3 guitar chords.
Here is the place to show off your fun music videos and have fun doing it. You do not have to be a professional to share your talent.
Welcome to my about me page, my name is Bryant Dodd and I am from Northwest Georgia and love music and playing guitar. One of my passions is writing songs and of course playing my guitar.
Contact guitar lessons simple form If you would like to know where to get really good inexpensive guitar's that will get you playing at great low rates.
Our news channel offers you an exciting way to get new and fresh information! Learn free guitar lessons and tips from us and benefit greatly.
Share you favorite guitar tips and tricks to help those who are beginner guitar players.
Many beginner guitar players ask - what kind of guitar strings are the best to use? This is a good question and there really isn't one answer for this question.
The Acoustic Guitar is probably the most played and most used instrument of all time.
Jazz guitar is one of the most coolest types of music that you can play, many super star musicians that are known for their rock guitar style use a mix of rock, blues.
Would you like to share your knowledge about simple guitar lessons? Great, find out how you can submit your story or tip here.